Color Box
We're SORRY! 🙏🏼🙏🏽🙏🏿 Despite our best efforts, due to high demand & backordered ingredients, this color is sold out. Please join our Wait List.
This is a PRE ORDER
Estimated to ship 9/3/21.
We're SORRY! 🙏🏼🙏🏽🙏🏿 Despite our best efforts, due to high demand & Covid delays, this color is sold out until December. Please join our Wait List.
Available for PRE-ORDER soon!
To get notified first please join our Wait List.
This is a PRE ORDER
Estimated to ship 9/13/21.
Available for PRE-ORDER soon!
To get notified first please join our Wait List.
This is a PRE ORDER
Estimated to ship 9/13/21.
As low as
$4 Per Use
$3 Per Use
100% Free US Ground Shipping
We provide free DHL Ground Shipping to the 48 mainland US states, which typically takes 4-8 business days to arrive from being shipped. You'll receive an email or text with tracking info once your order has shipped.

For orders shipped to Alaska, Hawaii, APOs, other US territories, as well as Canada and the UK, we charge an added fee to cover the mandatory paperwork and labeling that are required for these shipments.
The Easiest Way to Eliminate Gray
Safer
Simpler
Reusable
All-In-One
Simpler hair color uses safer ingredients that are gentler on your skin. Our innovative can doesn't need any mixing and our dye doesn't drip so no mess. One can gives you as many uses as 4 boxes of the drug-store brand dyes and can be used and reused for your hair, beard, and touchups.
Customer Reviews
Write a Review
Ask a Question
Filter Reviews:
color
hair
beard
skin
results
application
mess
experience
brush
Simpler
01/26/2023
Michael H.

United States
08/05/2022
Justin B.

United States
Hairdresser's perspective
After a recent trip, seeing folks I'd not seen in a while, the grey in my beard was pointed out way too many times. I've colored my hair many colors, tinted my lashes and brows but never my beard. Simpler is clean to work with, great coverage, No irritation. I like the medium brown but going to try the light brown. My beard has a lot of different colors. My beard was also less coarse after very similar to coloring your hair. Great product!!!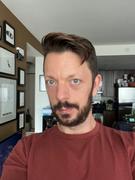 03/01/2022
Bonnie H.

United States
SIMPLER Hair Color "I'll NEVER use anything else"!!!!
My husband has been using Just For Men Beard Dye for YEARS. He recently started getting an Itchy Rash and then developed a Lump on his Cheek which led him to look for something better to color his Beard. Something that did NOT have Cancer causing Chemicals. He has been using SIMPLER Hair Color a Week now and relieved he has no Rash, Itching or Lumps on his Face. He commented how much easier this Product is to use and I noticed how nice and natural the Color looks. It matches his Hair very nicely. When we first found this Product we were a little uneasy with the Price since Just For Men was so much Cheaper per Box but after figuring out how many uses we were getting with each Box compared to what we are getting out of SIMPLER Hair Colors Container we realized it is so much more Economical. And not having to purchase as often is less hassle. We could not be more happy with this Product. I may even be trying it on my Gray Roots at some point. BONUS.
02/11/2022
Brett F.

Philippines
It is as the name implies and then some!
I used the Brown Black. My initial thought was to try 20mins and then increase the time by 10 mins with the subsequent applications to see how the shade varies. I then decided "f*** it, I'm going a full 45 minutes" because I wanted to see the full effect and thought I might run out before trying the longest application time. I also blend in with my Filipino family members now too. I found the application to be an absolute breeze, I applied it while sitting on my bed watching Netflix and using a handheld mirror. I purposely was not careful about it either, I did not use the stain guard and just combed the color through without a care in the world, it took maybe 5 to 10 mins to do my hair and goatee. Once I had completed it all, I checked in the large mirror for any stains, wiped what was on my ears and forehead away and the slight stain that was left behind easily washed off with shampoo 40 mins later (it might have been longer, I was binge watching All of Us Are Dead) Which is testament to how hassle and mess free Simpler really is. Rinsing the color out was easy, I shampooed twice to be sure and the second shampoo showed no signs of discoloration from the dye. After drying the hair, it looks really good, even though my natural color is closer to DB, I loved the darker look, my wife is now checking my phone again, so I'm assuming she thinks I look younger too. It's been 5 days, I did notice like 2 hairs in my beard that are looking greyish again but it isn't noticeable unless you are really looking for it, my hair is still 100% covered. I'll update you guys on how long this first application lasts until it needs another. My chief compliant is that it's not easier to hide the remaining color from my wife, I feel like I might wake up someday soon and my can will be empty. As someone who has dyed his hair 100s of time since his teen years, this was the first time I could confidently do so solo, I also forgot to mention how good it was to color my hair without feeling as if I was caught in the middle of a fumigation, the scent (or lack thereof) is a game-changer for me.
02/05/2022
Harold F.

United States
10/21/2021
Veliere C.

United States
Simpler Hair Color - Outstanding
Incredible product. Worth every cent I paid. Saw it advertised with the company using a Black Man and so I purchased it and this product is the only one that does not irritate my skin and the color looks great. In the future this will be the only coloring product I will use. Well Done!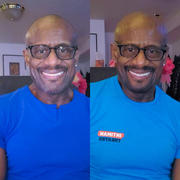 08/15/2021
Charles K.

United States
Amazing customer service ; ZERO skin irritation
I had a few bumps in the road with this particular product at first, however, I have to say their customer service team is absolutely amazing. Down to earth, personalized, real responses; extremely attentive; going above and beyond to make things right. I was super super impressed. I actually couldn't believe how well I was treated. It was amazing. Secondly, regarding the product, I absolutely love the product. In particular I love the fact that I get zero skin irritation. It almost feels as if it moisturizes as well. But it's so nice not to have the harsh chemical skin irritation and itching that I used to get with the store purchased over the counter products. It took me a few times to gauge how long I needed to leave the treatment on, and because my beard is otherwise pure white, I find I have to leave it on for an extended amount of time, more than the 15 minute recommended. However, even by leaving it on well beyond the 15 minutes, I never felt that the color was "over the edge", and "over baked" per say. Now that I've determined what works best for me and how the product reacts to my beard, I absolutely love it. You simply have to be patient, and find out what timing works best for you.
06/03/2021
Ed C.

United States
Totally Happy...Totally Satisfied
I came across the SIMPLER Hair Color (SHC) men's hair dye from a YouTube ad. So I went to their website to get more info, and liked what I saw and read, so I ordered it. And here's what I like? I used to use "Just For Men" (JFM), and you had to mix two tubes together, but the SHC has just one dispenser spray can. The SHC brush that comes with it does not flick the dye all over the place like the JFM brush does (I've got black dots all over my bathroom walls because of it). And I find that the SHC doesn't stain my skin if left on too long, whereas I was alway trying to rub off the JFM dye that stained the skin area around the hair where I applied it. And as an african american man, I think the SHC black dye looks a little more natural than the JFM black dye that I thought was too dark black and a little unnatural looking (IMO) when you first put it on. Hey, I'm 65 y/o and trying not to look my age as long as I can, but I also don't want my goatee, mustache and eyebrows to look unnaturally dark (what I call the Groucho Marx look). The only upside to the JFM is with the 2 tubes you knew when you were getting low and needed to repurchase, whereas with the SHC spray can you do not? But overall I'm happy and satisfied with the SHC, and as of now it's the only hair dye I'm using.
05/02/2021
Rick L.

United States
AMAZING PRODUCT
My overall experience was beyond what I ever expected. The customer service is absolutely phenomenal, I'm 200% satisfied. If you are wondering if this is a good product..Don't think any more go for it!!I highly, highly recommend this product. I've used other products for years this is top notch you will not be dissatisfied. RLamb ATLANTA
02/11/2021
Bobby G.

United States
FINALLY A VERY SIMPLE PRODUCT THAT WORKS!!
No Mess, A simplified Larger Comb that fits perfectly for ones hand and through the hair. Love Love the brush tip to get those small detailed areas around the beard and hairline...FRIKIN GENUIS!! No harsh after effects as did those harsh chemical ones I was using before. I'm beyond happy that I saw you guys ad. Thank you so much.