Color Box
We're SORRY! 🙏🏼🙏🏽🙏🏿 Despite our best efforts, due to high demand & backordered ingredients, this color is sold out. Please join our Wait List.
This is a PRE ORDER
Estimated to ship 9/3/21.
We're SORRY! 🙏🏼🙏🏽🙏🏿 Despite our best efforts, due to high demand & Covid delays, this color is sold out until December. Please join our Wait List.
Available for PRE-ORDER soon!
To get notified first please join our Wait List.
This is a PRE ORDER
Estimated to ship 9/13/21.
Available for PRE-ORDER soon!
To get notified first please join our Wait List.
This is a PRE ORDER
Estimated to ship 9/13/21.
As low as
$4 Per Use
$3 Per Use
100% Free DHL Shipping
We provide free DHL Ground Shipping which typically takes 4-8 business days to arrive from being shipped. You'll receive an email or text with tracking info once your order is shipped. Currently, we can only ship in the U.S. due to strict aerosol shipping regulations.
The Easiest Way to Eliminate Gray
Safer
Simpler
Reusable
All-In-One
Simpler hair color uses safer ingredients that are gentler on your skin. Our innovative can doesn't need any mixing and our dye doesn't drip so no mess. One can gives you as many uses as 4 boxes of the drug-store brand dyes and can be used and reused for your hair, beard, and touchups.
Customer Reviews
Write a Review
Ask a Question
10/21/2021
Veliere C.

United States
Simpler Hair Color - Outstanding
Incredible product. Worth every cent I paid. Saw it advertised with the company using a Black Man and so I purchased it and this product is the only one that does not irritate my skin and the color looks great. In the future this will be the only coloring product I will use. Well Done!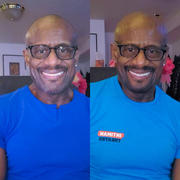 08/15/2021
Charles K.

United States
Amazing customer service ; ZERO skin irritation
I had a few bumps in the road with this particular product at first, however, I have to say their customer service team is absolutely amazing. Down to earth, personalized, real responses; extremely attentive; going above and beyond to make things right. I was super super impressed. I actually couldn't believe how well I was treated. It was amazing. Secondly, regarding the product, I absolutely love the product. In particular I love the fact that I get zero skin irritation. It almost feels as if it moisturizes as well. But it's so nice not to have the harsh chemical skin irritation and itching that I used to get with the store purchased over the counter products. It took me a few times to gauge how long I needed to leave the treatment on, and because my beard is otherwise pure white, I find I have to leave it on for an extended amount of time, more than the 15 minute recommended. However, even by leaving it on well beyond the 15 minutes, I never felt that the color was "over the edge", and "over baked" per say. Now that I've determined what works best for me and how the product reacts to my beard, I absolutely love it. You simply have to be patient, and find out what timing works best for you.
06/03/2021
Ed C.

United States
Totally Happy...Totally Satisfied
I came across the SIMPLER Hair Color (SHC) men's hair dye from a YouTube ad. So I went to their website to get more info, and liked what I saw and read, so I ordered it. And here's what I like? I used to use "Just For Men" (JFM), and you had to mix two tubes together, but the SHC has just one dispenser spray can. The SHC brush that comes with it does not flick the dye all over the place like the JFM brush does (I've got black dots all over my bathroom walls because of it). And I find that the SHC doesn't stain my skin if left on too long, whereas I was alway trying to rub off the JFM dye that stained the skin area around the hair where I applied it. And as an african american man, I think the SHC black dye looks a little more natural than the JFM black dye that I thought was too dark black and a little unnatural looking (IMO) when you first put it on. Hey, I'm 65 y/o and trying not to look my age as long as I can, but I also don't want my goatee, mustache and eyebrows to look unnaturally dark (what I call the Groucho Marx look). The only upside to the JFM is with the 2 tubes you knew when you were getting low and needed to repurchase, whereas with the SHC spray can you do not? But overall I'm happy and satisfied with the SHC, and as of now it's the only hair dye I'm using.
05/02/2021
Rick L.

United States
AMAZING PRODUCT
My overall experience was beyond what I ever expected. The customer service is absolutely phenomenal, I'm 200% satisfied. If you are wondering if this is a good product..Don't think any more go for it!!I highly, highly recommend this product. I've used other products for years this is top notch you will not be dissatisfied. RLamb ATLANTA
02/11/2021
Bobby G.

United States
FINALLY A VERY SIMPLE PRODUCT THAT WORKS!!
No Mess, A simplified Larger Comb that fits perfectly for ones hand and through the hair. Love Love the brush tip to get those small detailed areas around the beard and hairline...FRIKIN GENUIS!! No harsh after effects as did those harsh chemical ones I was using before. I'm beyond happy that I saw you guys ad. Thank you so much.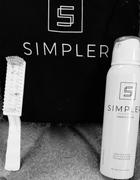 01/16/2021
Robert M.

United States
You won't be disappointed!
Let me say upfront I will buy this product again! When I opened the box I was thoroughly impressed with the way the contents were packaged as it was definitely first class. I'd read several reviews before purchasing Simpler Hair Color and have to admit I was skeptical about making an order. I read the instructions from start to finish. Hands down this is the best product I've ever used that when I finish the process I was truly amazed with the results. It's very easy to use and most of all it wasn't messy as in other products I've used. Go ahead and give it a try and I'm confident that you'll want to make this your #1 hair color product for no more gray.
01/15/2021
Samuel T.

United States
I've tried many. This is the BEST!
Best hair color I've tried by far! I have very sensitive skin, but with this product there was no irritation. Also, the dye only stains/colors your hairs, NOT your skin. The best thing is you only have to leave it on for 10-15 mins, but it lasts 2 weeks plus. I must also add that the product was damaged during shipping, but the issue was quickly addressed and Simpler went over and beyond what I was expecting. Great product AND Great service! Highly recommended!
12/31/2020
Stephon A.

United States
EASY! BREEZY! BLACK!
I've been using other brands for years with problems of short lasting color or major irritations. And those small, expensive little tubes that don't have longevity... ENOUGH! SIMPLER got it right! LONG lasting color, NO irritation. And with the new & improved dispenser... EASY! EASY! EASY! Fellas, no need to look anywhere else. SIMPLER, where have you been all my life!? Finally, Snehal you guys got it right!!! Thank you!!! Stephon
08/04/2020
Lee

United States
Incredible Customer Service!
I've been coloring my beard for over 5 years now. Started with JFM, enjoyed how fast it took me to apply and develop, but after a year or so, I started having a reaction. Tried a few more chemical coloring products and developed a reaction shortly after using. So everything I read suggested a PPD reaction. Switched over to henna and had success with it for the last 3 years, but the time required to color my beard increased substantially (more than an hour) and the color only lasted for about 4 days before washing out. Came across Simpler Hair Color via an ad on a social media site, ordered a box. It arrived in a few days, I applied it for 15 minutes, and liked the color. Had no reaction, so I was excited I had found something that worked well! Now, I go a week before I have to reapply (I wear a short beard, and it grows fairly quickly. I can get 4-5 uses out of a box. So far, I've tried Brown Black and Dark Brown. At 53 years young, I'm just not ready for a white beard. The included "Before" pic is with the henna product, "After" is with Simpler Hair Color. I ordered another box recently and was surprised when it didn't show up in the mail within a few days. Contacted the company after a week, and was surprised when Mitch at Simpler Hair Color responded within an hour or so. He told me that some shipments were getting delayed in the mail because of COVID-19 (delay on the USPS side) and sent me another box. I received that box yesterday within a couple of business days of Mitch and the company shipping it (boy was I ready to color my white whiskers!). I can't say enough how much I appreciate Mitch and Simpler Hair Color responding so quickly and helping me! A great product, but even greater customer service!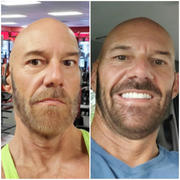 07/12/2020
Scott G.

United States
I WAS a Just for Men customer for years ...
As the title indicates - I used to color just my beard with JFM for years. But have to say that everything about Simpler is simply, better. I did my beard and hair (to match), was my first time doing my hair. It took 10 minutes ... and the results were amazing. Super easy to apply! Jury is still out on durability as I've only just today applied it. I've never had a skin irritation from other products and the same is true with Simpler. That said, my hair & beard like this product much better!!! With JFM my beard would almost be coarse when I was done coloring it. Not so with Simpler! Impressive results for 10 minutes of easy effort! Well done guys!!!