Color Box
We're SORRY! 🙏🏼🙏🏽🙏🏿 Despite our best efforts, due to high demand & Covid delays, this color is sold out until the end of November. Please join our Wait List.
We're SORRY! 🙏🏼🙏🏽🙏🏿 Despite our best efforts, due to high demand & Covid delays, this color is sold out until December. Please join our Wait List.
COMING this Winter!
To get notified about early releases please join our Wait List.
COMING this Winter!
To get notified about early releases please join our Wait List.
As low as
$4 Per Use
$3 Per Use
100% Free FedEx Shipping
**PLEASE NOTE: We are currently experience shipping delays beyond our normal times**. Normally, you will receive your order within 4-8 business days from being placed. You'll receive an email or text with tracking info once your order is shipped. Currently, we can only ship in the U.S. due to strict aerosol shipping regulations.
The Easiest Way to Eliminate Gray
Safer
Simpler
Reusable
All-In-One
Simpler hair color uses safer ingredients that are gentler on your skin. Our innovative can doesn't need any mixing and our dye doesn't drip so no mess. One can gives you as many uses as 4 boxes of the drug-store brand dyes and can be used and reused for your hair, beard, and touchups.
Customer Reviews
Write a Review
Ask a Question
08/04/2020
Lee
United States
Incredible Customer Service!
I've been coloring my beard for over 5 years now. Started with JFM, enjoyed how fast it took me to apply and develop, but after a year or so, I started having a reaction. Tried a few more chemical coloring products and developed a reaction shortly after using. So everything I read suggested a PPD reaction. Switched over to henna and had success with it for the last 3 years, but the time required to color my beard increased substantially (more than an hour) and the color only lasted for about 4 days before washing out. Came across Simpler Hair Color via an ad on a social media site, ordered a box. It arrived in a few days, I applied it for 15 minutes, and liked the color. Had no reaction, so I was excited I had found something that worked well! Now, I go a week before I have to reapply (I wear a short beard, and it grows fairly quickly. I can get 4-5 uses out of a box. So far, I've tried Brown Black and Dark Brown. At 53 years young, I'm just not ready for a white beard. The included "Before" pic is with the henna product, "After" is with Simpler Hair Color. I ordered another box recently and was surprised when it didn't show up in the mail within a few days. Contacted the company after a week, and was surprised when Mitch at Simpler Hair Color responded within an hour or so. He told me that some shipments were getting delayed in the mail because of COVID-19 (delay on the USPS side) and sent me another box. I received that box yesterday within a couple of business days of Mitch and the company shipping it (boy was I ready to color my white whiskers!). I can't say enough how much I appreciate Mitch and Simpler Hair Color responding so quickly and helping me! A great product, but even greater customer service!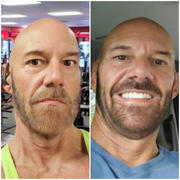 07/12/2020
Scott G.
United States
I WAS a Just for Men customer for years ...
As the title indicates - I used to color just my beard with JFM for years. But have to say that everything about Simpler is simply, better. I did my beard and hair (to match), was my first time doing my hair. It took 10 minutes ... and the results were amazing. Super easy to apply! Jury is still out on durability as I've only just today applied it. I've never had a skin irritation from other products and the same is true with Simpler. That said, my hair & beard like this product much better!!! With JFM my beard would almost be coarse when I was done coloring it. Not so with Simpler! Impressive results for 10 minutes of easy effort! Well done guys!!!
07/02/2020
Jeff M.
United States
EXCEPTIONAL Product!!!
I have been using henna for a decade, and recently it started turning reddish blonde instead of dark brown. I saw an ad for Simpler and gave it a try. Boom! It worked perfectly. And no fading at all. Set it up for a monthly subscription I was so impressed. Application is easy and takes only 15-30 min set time (henna took 1-2 hrs). I don't have any worries about hair styling products affecting my hair from using Simpler either (with henna, styling products did change my color). Very satisfied with it!
07/01/2020
Robert N.
United States
Better all the way around.
So I finally decided to make the switch from JFM and try Simpler. I'm 55 and my hair hasn't begun to grey yet but my brown-ish beard is more than half grey/white. Simpler applied very easily with the cool applicator, and the bristled end of the applicator let me easily fade the product into my hairline near my ears. Being that this was the first time I used this product and my natural beard color is light brown, I allowed it to work for 8 minutes before shampooing it out. I think next time I'll let it sit for 6 minutes, as it it slightly darker than I had planned. That said, the color is perfectly uniform and I am very happy with this first try. Cleanup took only a minute and I had no problems with my skin becoming stained as a result of being a little sloppy with my application. I did this treatment 5 days ago and the color is holding rock-solid, and I've had no skin-sensitivity issues. I want to point out that the applicator does a MUCH better job of saturating my beard with the product, which is probably why I'm so happy with the color coverage. With JFM, I would frequently miss spots that I wouldn't notice until after showering...leaving white patches of beard. I highly recommend Simpler!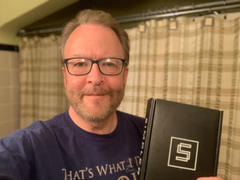 06/28/2020
Elijah H.
United States
The BEST Beard dye!!!
From the nice packaging, the nice gloves(included), to the simplicity of applying this dye to my beard, this is absolutely the best dye on the market. For years I've used Just for Men beard dye but recently it's caused my beard hair to turn from black to orange?? As I searched for another beard dye I was fortunate enough to come across SIMPLER hair and Beard dye. I love the large application brush and reusable gloves!! This dye is much "Simpler "to apply and the results are GREAT!! I've used SIMPLER for over a month now and I haven't had any allergic reactions or discoloring in my beard as I had with Just for Men beard dye. SIMPLER is definitely my new choice of beard dye!
06/18/2020
Jeffrey D.
United States
My barber won't like this
This product is GREAT! Covered my gray very well, MUCH LESS messy than I expected. Perfect COVID-19 solution combined with a new Braun trimmer. I was hesitant to use this...took me a month to finally open the box. Easy application, well packed, well thought out. Not sure though why some customers like the smell...though it smells more mild than the stuff my stylist normally would use. Any "mistakes" where the color gets where you don't want it are easily cleaned up by the cloth included. Wish you sold some extras of those. Highly recommend. This is a real review from a real 1st time user who is very impressed!!!
06/11/2020
Randy G.
United States
Even BETTER than the hype!!!
I am truly VERY impressed with this SIMPLER hair dye. In my case I bought the medium brown and this stuff is awesome. I dyed my beard I was growing, and my hair. It's as easy and SIMPLE to apply as they say... NO bull, NO mess...smells great.NO chemical smell like most dyes, actually smells great, no skin burning at all...and it IS Simpler and Better. The color quality looks very natural and it's just so easy to use, vs mixing the usual hair dye...shaking it to death and so on. I am finding I need a rather small amount of this stuff so far and it goes a long way. I also found..better to start with less time aka - 8-10 minutes vs 15 or it can get TOO dark. Of course this will all depend upon how much hair and or beard you have..but this is a TRUE 5 star product from the packaging, to the PRODUCT, to the little extras they throw in like free gloves (Which you won't even need..and more) Very impressed...I'll be sure to buy again as soon as my supply runs out!!!
06/09/2020
Ahson M.
United States
Color Changing Life Changing Boost of self Confidence!
As a young man, I have been blessed with a lot of gray hairs on the sides on my head that after 1 week of a hair cut they are very visible to my eyes. Found Simpler Hair color and it got rid of all my grays. It was SO simple and SO easy to use. I love, love the product and would highly recommend it for anyone who is willing to try it. This is the first hair coloring product I have ever used, and it will be the only thing i use! Simpler Hair Color Rocks! -Dr. Mahfooz
06/05/2020
Kenneth P.
United States
Newbie hair color-er very satisfied!
My hair was mostly gray and my beard prematurely white. I had never colored my hair before. But my wife encouraged me to try. I had heard good things about Simpler, especially that the ingredients are more healthful than the mass-marketing brands, so I ordered Simpler in Brown/Black. It arrived fast. Packaging is elegant and practical. I'm keeping for travel the cool black bag the items come in. In two words: "Easy-Peasy." The instructions are clear and direct. In 20-30 minutes, I took 20 years or more off my chronological age (according to my wife). I feel younger, too. Simpler Hair Color should be called: "Romance Enhancer."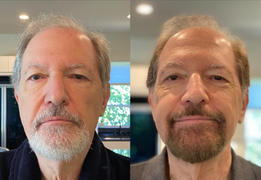 05/25/2020
Jeff G.
United States
Finally a useful beard dye!
Sensitive facial skin here, it doesn't take a lot to cause irritation, itch and burn, so due to the multiple beard dyes I've tried, I had zero expectations with this product. After watching several testimonials i thought I'd give it a try. So far pleasantly surprised, impressed. You can tinker with the dye cream to determine what method works best for you. I found that instead of using the provided brush, dispensing a small amount of dye cream on a shallow pallet works best for me, using a smaller skinnier brush i have from a different product to mix and brush. Because i don't have much gray, dispensing very little goes a long way. Evidently this one dye container will last me longer than expected. So it's a nice option being able to adjust my subscription ship schedule. Ive also found that i can still use any leftover mixed cream on the pallet that was unused, the following day, for small touch ups. And it still works. Even if a bit dried out. Nice! All in all, very minimal skin irritation. I found that letting the dye set for five minutes or so does a fine job and avoids skin irritations. The brown/black color blends well and looks completely natural. Definitely a recommended product. Simpler, I think i found the beard dye I've been searching for! Looking forward to a great future together! Thanks guys!