Color Box
We're SORRY! 🙏🏼🙏🏽🙏🏿 Despite our best efforts, due to high demand & backordered ingredients, this color is sold out. Please join our Wait List.
We're SORRY! 🙏🏼🙏🏽🙏🏿 Despite our best efforts, due to high demand & Covid delays, this color is sold out until December. Please join our Wait List.
COMING this Summer!
To get notified about early releases please join our Wait List.
COMING this Summer!
To get notified about early releases please join our Wait List.
As low as
$4 Per Use
$3 Per Use
100% Free FedEx Shipping
**PLEASE NOTE: We are currently experience shipping delays beyond our normal times**. Normally, you will receive your order within 4-8 business days from being placed. You'll receive an email or text with tracking info once your order is shipped. Currently, we can only ship in the U.S. due to strict aerosol shipping regulations.
The Easiest Way to Eliminate Gray
Safer
Simpler
Reusable
All-In-One
Simpler hair color uses safer ingredients that are gentler on your skin. Our innovative can doesn't need any mixing and our dye doesn't drip so no mess. One can gives you as many uses as 4 boxes of the drug-store brand dyes and can be used and reused for your hair, beard, and touchups.
Customer Reviews
Write a Review
Ask a Question
05/02/2021
JAMES F.

United States
05/02/2021
Rick L.

United States
AMAZING PRODUCT
My overall experience was beyond what I ever expected. The customer service is absolutely phenomenal, I'm 200% satisfied. If you are wondering if this is a good product..Don't think any more go for it!!I highly, highly recommend this product. I've used other products for years this is top notch you will not be dissatisfied. RLamb ATLANTA
02/11/2021
Bobby G.

United States
FINALLY A VERY SIMPLE PRODUCT THAT WORKS!!
No Mess, A simplified Larger Comb that fits perfectly for ones hand and through the hair. Love Love the brush tip to get those small detailed areas around the beard and hairline...FRIKIN GENUIS!! No harsh after effects as did those harsh chemical ones I was using before. I'm beyond happy that I saw you guys ad. Thank you so much.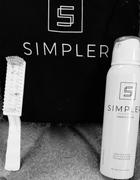 01/16/2021
Robert M.

United States
You won't be disappointed!
Let me say upfront I will buy this product again! When I opened the box I was thoroughly impressed with the way the contents were packaged as it was definitely first class. I'd read several reviews before purchasing Simpler Hair Color and have to admit I was skeptical about making an order. I read the instructions from start to finish. Hands down this is the best product I've ever used that when I finish the process I was truly amazed with the results. It's very easy to use and most of all it wasn't messy as in other products I've used. Go ahead and give it a try and I'm confident that you'll want to make this your #1 hair color product for no more gray.
01/15/2021
Samuel T.

United States
I've tried many. This is the BEST!
Best hair color I've tried by far! I have very sensitive skin, but with this product there was no irritation. Also, the dye only stains/colors your hairs, NOT your skin. The best thing is you only have to leave it on for 10-15 mins, but it lasts 2 weeks plus. I must also add that the product was damaged during shipping, but the issue was quickly addressed and Simpler went over and beyond what I was expecting. Great product AND Great service! Highly recommended!
12/31/2020
Stephon A.

United States
EASY! BREEZY! BLACK!
I've been using other brands for years with problems of short lasting color or major irritations. And those small, expensive little tubes that don't have longevity... ENOUGH! SIMPLER got it right! LONG lasting color, NO irritation. And with the new & improved dispenser... EASY! EASY! EASY! Fellas, no need to look anywhere else. SIMPLER, where have you been all my life!? Finally, Snehal you guys got it right!!! Thank you!!! Stephon
12/30/2020
Phillip G.

United States
GREAT Product! EXTREMELY Pleased!
After 52 years, I decided to give my beard a chance. After growing my beard out for 4 months without doing anything in regards to trimming or coloring, I was happy with the shape of it but not with the mix of gray, white and brown colors of it. Frankly because of the color of it it was time to do something about it. I watched quite a bit of Youtube videos and read a lot of reviews and decided to order from Simpler. I chose the brown/black color from Simpler Hair Color. Customer Service is great and the product arrived within a couple of days. I must admit that I was a little apprehensive in terms of using hair dye because I have really sensitive skin. Well I'm here to say that I am extremely pleased with Simpler. It is super easy to apply, results are quick and not a single allergic reaction. The brown/black color looks very natural and I actually think it makes my beard hairs softer. I'm super happy with the results. Thank You Simpler!
11/29/2020
Mike P.

United States
Simpler is a Home Run ⚾️
I don't do reviews unless something is great and Simpler is just that! I have been using this for 1 month now. Easy to apply, I like that it's foam, as it covers My beard fully and I like the brush they supply a lot. I had been using JFM for 5 + years, no comparison, Simpler is Superior. Also the color lasts and my first bottle still has product left in it a month later.
08/30/2020
David A.

United States
First Impressions from a long time JFM user
First, some context. I have been a Just For Men user for over 25 years. I am a 65-year-old man with a full, close-cropped beard. My beard hair color will turn completely white without product intervention. Typically, I use JFM twice a month (or a bit longer occasionally). At that point, my beard is salt & pepper colored around 50% each. Using the medium-brown color of JFM, I achieve mostly even coverage. However, there is some grey-resistance on the edges. I usually touch these areas up with a dedicated darkening crème similar to mascara. This process usually achieves the results I want. However, the effect of the dye can be hit or miss, even though I attempt to be as consistent in the application as possible. ("Box of chocolates. Never know what you're going to get"). I do experience minor skin sensitivity as I try to get the dye to ********* the resistant areas. I would qualify my satisfaction as around 50-65%. Because of my longevity with the JFM product, I have the process and system down to be simple and effective with little time expended. This has worked relatively well for me over the years. I have now used Simpler for the first time. While my impressions are not complete, I thought I'd share them with you while there are still fresh on my mind. First, the quality of the end result exceeded my expectations. The consistency of the dye across the beard created a most pleasing outcome. When my wife saw me the first time post-application, her unsolicited comment to me was, "Whatever product you'reusing, keep using it. It looks great!" She always comments on my beard-dying efforts, with mixed results. I trust her judgment, and she was duly impressed. That makes me happy . The most important test, "Does this product deliver the promise made?". For the opinion most important to me, the answer is a resounding, "Yes!". I could end my review here, but in the interest of helpful feedback, I offer the following. 1.The packaging is most impressive. It provides a quality first impression, and I understand how that translates into anticipated quality. My thought is, it would be great to have this kind of packaging on the first order only, then move to a subscription basis at the reduced rate, eliminating the packaging for a no-frills, cheaper buying experience for the already-convinced. 2. While the color-block paste (vaseline?), inclusion is a nice touch, it is only a "use once" experience, while the product contains more than one application. Either increase the amount to cover all applications in a reusable container, else drop the inclusion and reduce the cost. This also is true of the latex gloves. These are minor issues, but it did occur to me. 3. The brush is a handy tool. Applying the product to the brush and mixing it during the application process is a great system. Very helpful! 4. The clean-up process is a little awkward regarding the dispenser top. I removed the top and ran it under a stream of water for a bit. However, even with the faucet turned up all the way, the water pressure was insufficient to wash out the product successfully. The inclusion of a small plastic clean-out tool would be helpful here. 5. Having some way of knowing how much product remains would be helpful. Of course, after I go through several applications, I will have more experience to learn from, so this may be unnecessary. I have a Jet-boil camping stove that uses a thermal color-changing indicator for how hot the water is. I wonder if there is something along these lines that could be applied here. Blue-sky thinking, I know. Just trying to be solution-oriented. 6. Finally, I have to adjust my thinking about the length of color time needed from JFM to Simpler. I usually allow 7 minutes for JFM. The recommended 20-30 minutes for Simpler caught me unaware, (even though it is in the included instructions). I found myself just sitting on the side of the tub, waiting for the color to work, concerned that the seeping of the product would dye my skin if I left the bathroom to do other things during the dye time. It might be a marketing tactic to come up with some "fun" things to do while waiting for the 30 minute dye process to occur, ala "Dollar Shave Club" marketing (bathroom reading material, fun facts, etc.). Again, just brain-storming here. I think you have a great product here. I look forward to continued use. My remarks are intended to be helpful and encouraging. Keep the useful. Throw out the rest. Again, thank you for the invitation to share my thoughts.
08/04/2020
Lee

United States
Incredible Customer Service!
I've been coloring my beard for over 5 years now. Started with JFM, enjoyed how fast it took me to apply and develop, but after a year or so, I started having a reaction. Tried a few more chemical coloring products and developed a reaction shortly after using. So everything I read suggested a PPD reaction. Switched over to henna and had success with it for the last 3 years, but the time required to color my beard increased substantially (more than an hour) and the color only lasted for about 4 days before washing out. Came across Simpler Hair Color via an ad on a social media site, ordered a box. It arrived in a few days, I applied it for 15 minutes, and liked the color. Had no reaction, so I was excited I had found something that worked well! Now, I go a week before I have to reapply (I wear a short beard, and it grows fairly quickly. I can get 4-5 uses out of a box. So far, I've tried Brown Black and Dark Brown. At 53 years young, I'm just not ready for a white beard. The included "Before" pic is with the henna product, "After" is with Simpler Hair Color. I ordered another box recently and was surprised when it didn't show up in the mail within a few days. Contacted the company after a week, and was surprised when Mitch at Simpler Hair Color responded within an hour or so. He told me that some shipments were getting delayed in the mail because of COVID-19 (delay on the USPS side) and sent me another box. I received that box yesterday within a couple of business days of Mitch and the company shipping it (boy was I ready to color my white whiskers!). I can't say enough how much I appreciate Mitch and Simpler Hair Color responding so quickly and helping me! A great product, but even greater customer service!